Video Edit Analysis Features
1. Video Cut Features
Player (video splitter/ video slice/ video cut/ video converter) to preview video file.
Select parameters for output file. Application fill default values and all codec.
Output file will automatically get a name: name, name_1, name_2....
Make a cut with one button press or use keyboard. Record light flashing.
Convert input file to output with one button press, also.
2. Video Edit Features
Input media file can be anything. Use part of its video or audio.
Story board with timeline
Drag and drop to add media file
Transition effects
Background music
Title text image creation and add
3. Video Analysis Features
snapshot image
insert image
add overlay image
draw text, line, rectangle, circle on the movie
Video Analysis screen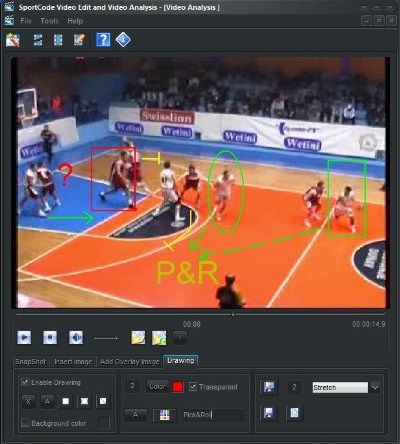 You can move movie's slider in small steps back and forward and analyze particular moment on the movie. Also you can use middle mouse wheel for that when you click on that slider. Use keyboard button space bar for play/pause a movie.You can draw on movie during a pause. Then you can save a snapshot for later analysis or further post processing - scouting report or similar or you can save that drawing in movie or insert image in movie. Watch tutorial on http://www.youtube.com/watch?v=1ItGKq3ttHw
Video Edit screen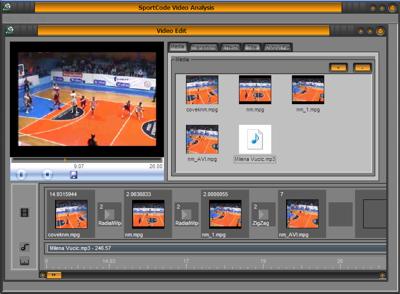 Video Edit has movie player on the left and few tabs on the right and film strip below. Click on item to get preview, double click to edit its properties. Use Media file tab to add/remove video or audio file. Drop video and picture file to movie strip in bigger box. Drop audio file to audio strip. You can drop video to audio strip to use audio channel only. Use transition tab or effect tab to select some of them from list. Click on item will shows preview of it. Drop it to movie strip in smaller box. Use Title tab to create multi line title picture which can be dropped to movie strip. Press play button to get preview. Press button Save to save your work in output file. Watch tutorial on http://www.youtube.com/watch?v=kqiYEUZzwRc
Video Cut screen
Video Cut has movie screen which can be larger or smaller. Select input file and output file and its type. Make a cut with one mouse click or keyboard C button press. Use keyboard space bar for play/pause. Convert input file to output file with one mouse click. If you have SportDraw playbook then you can make a sketch of play/drill, just put SportDraw screen close to movie. Watch tutorial on http://www.youtube.com/watch?v=ccpYBlKS8oc
Video Cut Tutorials
Watch tutorial on youtube http://www.youtube.com/watch?v=ccpYBlKS8oc