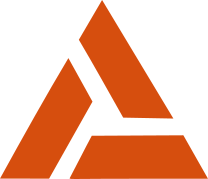 1999 - 2019
SportDraw Water polo
SportDraw is the best tool to draw and share animated plays and drill for Water polo. Publish mp4, mpeg or avi video of plays and drills.
Buy Now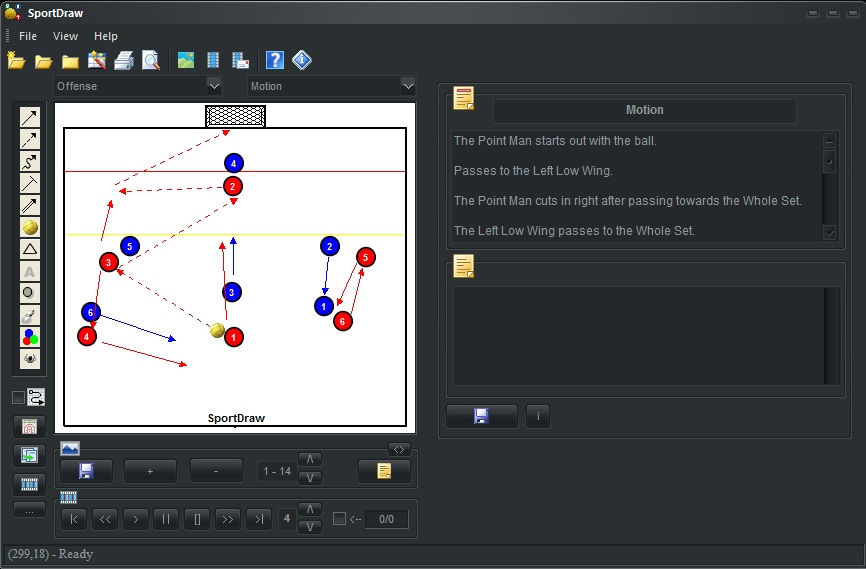 SportDraw Water polo drill example
Serbian Water polo association - VSS assisted us to make SportOffice Water polo software. Our gold medals Serbian National Water polo team and other associations, clubs and coaches use it.
SportDraw® Water polo features and benefits
Draw diagrams and animations
Easy and fast draw play and drill action from frame to frame
Advance next action
Automatically advance action to the next frame
Categories
Playbook organized in categories
Free Plays and drills
Playbook has 130+ drills and plays for Water polo
Publish
Video(MP4, MPEG, AVI) with preset for any platform ios/android, Web page print report PDF
Share
Share plays and drill file, report pdf and video to cloud, social network, email
30 Language
All European, Russian, Turkish, Chinese
Player icon
Player icon is colored circle or human body
Additional
Copy frame picture. Linear and curved movement and lines. Add/delete/edit object
Application
Water polo Scouting, Water polo Tactics, Water polo Strategy, Water polo Coaching and Water polo Training, Water polo for youth and Water polo for kids
SportDraw Water polo pitch half
Water polo pitch can be in black and white or in colors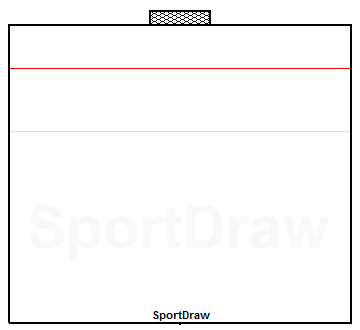 SportDraw Water polo pitch
Water polo pitch dimension is 20-30m x 10-20m. Minimum water depth must be least 1.8 meters (6 feet). The middle of the pool is designated by a white line. The 5m line is where penalties are shot and it is designated by a yellow line. The 2m line is designated by a red line and no player of the attacking team can receive a ball inside this zone. Goal is 3m in width and 0.9m in height.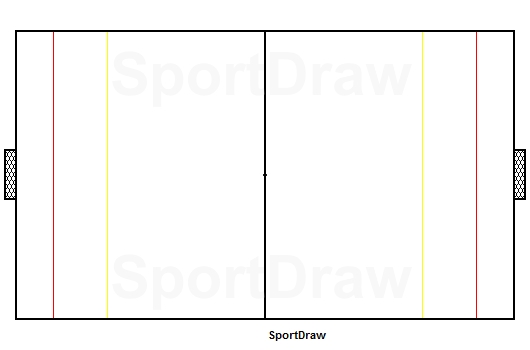 SportDraw Water polo playbook has built-in 130+ drills
Breaking
Condition breaking
Fast Break from Circle
Half CourtPass and Break
Stop Go or Reverse
Three Man Game
Three on Two
Conditioning
Cross Tank In and Outs
Double Bobbing
Egg-Beater
Follow the Ball
Half Tank Wind Sprints
Partner Tow
Pass the Brick
Piggy Back
Sculling with Arms
Shoulder Wrestle
Six Forward and Three Back
Treading Variations
Wall Push Offs
CounterAttack
Condition breaking
Counter attack wet pass
Fast Break from Circle
Half CourtPass and Break
Stop Go or Reverse
Three Man Game
Three on Two
Defense
Drill - centre back
Full Court Press
Mid Court Pick Up
Prototype
Switching
Dribbling
Chase
Circle Dribble
Continuous Dribble
Dribble Tag
Drill - centre back
Head-Up Dribble
Prototype
Rotate
Take Balls
Formations
3-3 Basic
4-2 Double hole
Umbrella
Goalie
Arm Pits Out
Go Right - Go Left
Lob Shot Defense
Long pass
Pass follow shoot
Pressing
Rack
Rear Ups
Receiving Goal Throw
Rush the Goalie
Set for Rebound Shot
Short Shot
Two Egg-beaters
Zig zag pass shoot
Handling
Ball Stealing
Front to Back
Press and Push
Two Man, Two Ball Feed
Offense
3-3 Basic
4-2 Double hole
Brake up zone
Entry(a)
Entry(b)
Motion
Rotating umbrella
Strong wing step-out
Umbrella
Passing
3 times shoot
5 in a dice
Accuracy Passing
Back & forward
Ball chase
Bull in the Ring
Circle passing
Dribble and Cross Pass
Hot potatoe
Improve speed
Long-short passing
Pass 1 to 18
Pass and shoot 01
Pass Feed
Relay
Right backs
Short Pass
Tjech 1
Shooting
2 line shooting
All alone
Mass chaos
One-shot ucla
Open the center drive
Pass and drive to defense
Pass and shoot
Shadow Shots
Triangle 3 shot
Spinning
180 Degree Turn Spin
270 Degree Spin
Four Square
Zig-Zag 90 Degree Spin
Warm up
Circle Drill
Monkey in the middle
Passing behind
Ready
Sideway passing
Stretch Achilles
Stretch Back
Stretch Calf
Stretch Hamstring
Stretch Shoulder
Stretching
Triangle
Warm Up Pass