SportPlanner Practice Plans Basketball, Handball and other sports
Practice plans: Practice database with shortcut of practice area, Prebuild Drill Plays preview, Groups of players, video, notes, add drill picture. Automatic get pie of each aspect of practice. Diagramming has pages with court. Video or any files. Week Practice Plan with pie for each day. Master Plan xls. Pie get answers on questions: How many offense, defense, shoot. Exchange data, send practice to master coach. Analysis day practices to weekly plan.
Left pane has drills categories and shortcut buttons of practice area customize to each coach. Select it to get its Drills in central area of screen, there is button to direct edit/add drill to archive. Click on drill to get its picture which you can include in practice or click on it to get its datail data. Anyway click on drill and then add button to add to practice wich auto sort drills from same category and auto calculate and get Pie on your language in Chart Tab.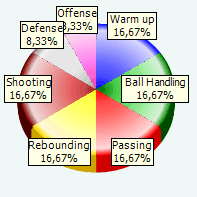 Groups of players has major role when you need to split team and it is easy to do. Left pane has Group button to get screen where fast and easy make groups. Plan has unlimit no of groups.
Practice Plan navigation button is used to move drill up/down, delete it or add picture,note.
Diagramming and Set Plays: is a part of each practice. Page can be 4x4, 3x3, 2x2, 2x3 how many court picture per page. Use SportDraw playbook software to make drill or play and copy/paste.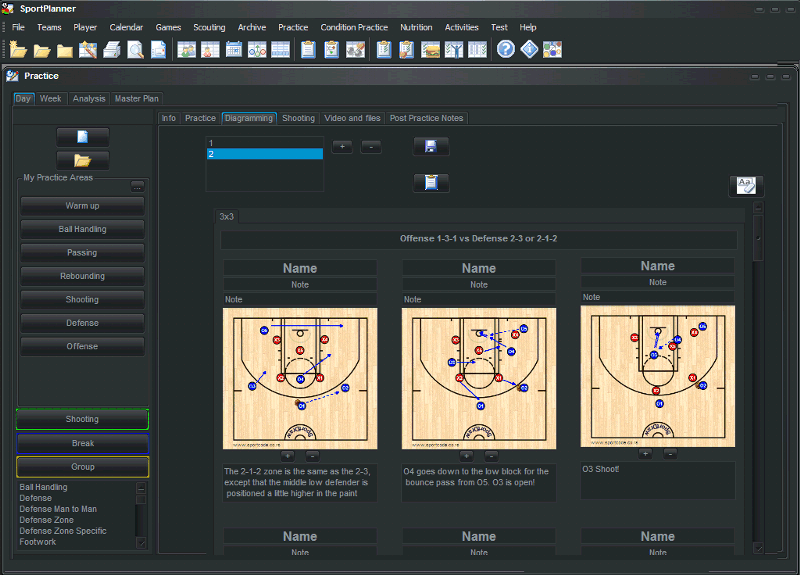 Shooting: Select type,range,position of shoot and for each player make a Shoot Log, but it is witout Made/Attempt/%. with that list goes on practice and when return fill result from shoots from practice. Later you will compare shoot from practice with shoot from games in Player Screen. Each Shoot Picture goes with practice. Click on small button to get picture editor to draw positions.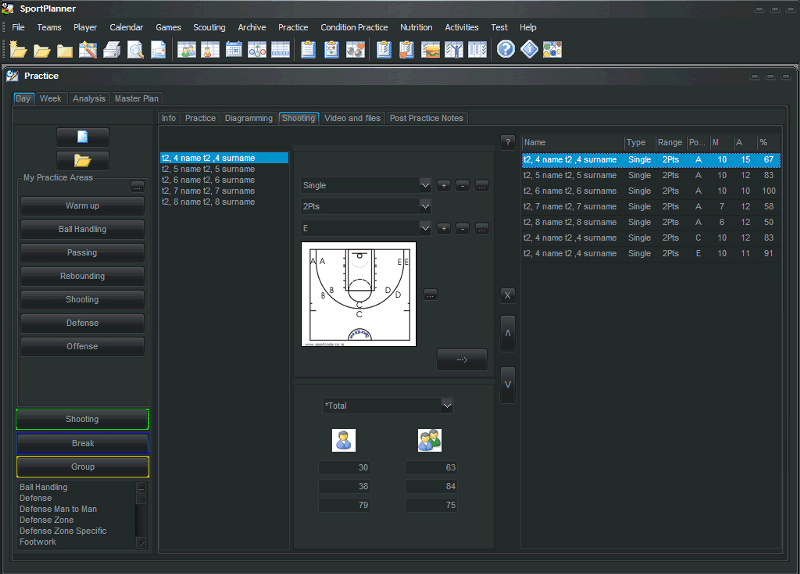 Video and other files Tab: hold any video and file for current practice. During import give name and wach progress bar which is great if you import full game of few GB size.
Post Practice Note is used to make notes about major stuff(players, off,def) during practice.
Week Plan is used to plan how much of what(off,def,reb,pass..) you do per week. Autocalculate pies for practice and day/week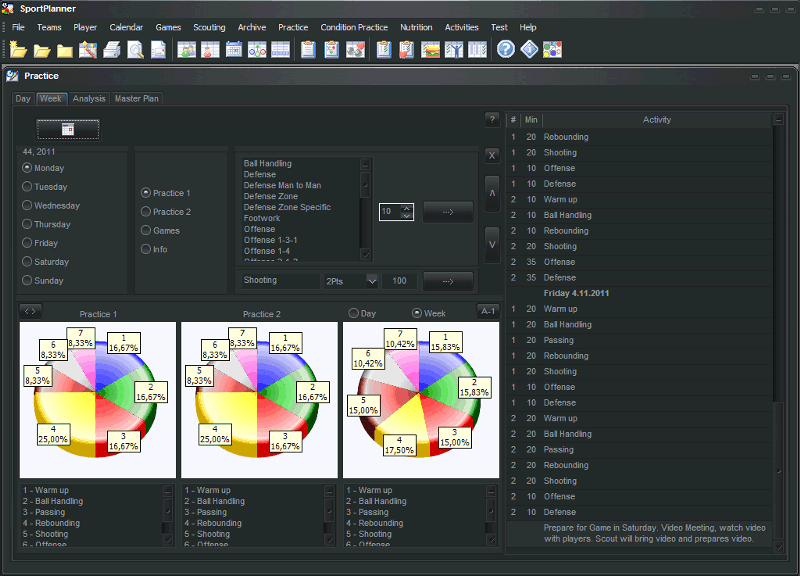 Analysis is used to compare Week Plan to Day Practice in each day of that Week or Month. You get pies to easy compare actual and planned.
1. Practice Analysis: practice areas, Shooting, Drills.
2. Shoot analysis: compared shoot on practice and games in selected date period per team/player
Master Plan (Annual-Yearly) is used if you want to go deep in overview of whole program. It is .xls file which is prebuild for easy to use and work.
Practice Plan Printing and Screens: select one of document template from full color and modern design to the simply text template, only. click on print icon(or menu file/print or print preview) to Print part of practice from every tab or print completed practice if click print icon from info tab of practice. You get web page and from web browser select print background image in menu file/print page setup or similar. If you have freeware PDF printer then get PDF from web page.
SportOffice and it's SportPlanner support Burn Fat Workout and Weight Loss Program in Strength Practice Workout Plan Screen, Strength Workout Program Screen, Nutrition Plan Screen, Activity Log screen. Click folowing link to stay tuned
Burn Fat Workout, Weight Loss, 6-pack abs, Fat Burning Food, Burn Fat Diets and Weight Loss programs and How does Protein burn fat and What is The Thermic Effect of Food (TEF) ...click to read